AU/AUS
AU Series.Design Features
Lightweight aluminum alloy material
Reduced size by 45%
Balls roll on the guide groove by Gothic arc four-point contact
Nut and sliding block are integrated into one piece
Dust-proof actuators use in cleanroom and dust-free production line
Transmission mode:
1. Ball screw 2. PU steel belt 3. Linear motor module
AU Series.Electric Built-in Guideway Servo Actuator
Product description
Innovative research and development of AU single axis robot—linear positioning actuator module—is based on accumulated years of manufacturing and assembly experience and industry-university technology exchanges. The main core of the AU series design is integrating the ball screw, nut, sliding block, and the linear guide rails, which has the characteristics of high rigidity and high load-bearing, and suppresses high-speed vibration.AU series has a complete range of specifications, it is convenient to fix of locking up and down, and can be used in single axis or combination of multi-axis.
Application: Various industries of automatic transmission, glue dispensing, positioning, measurement, inspection, and cutting equipment application.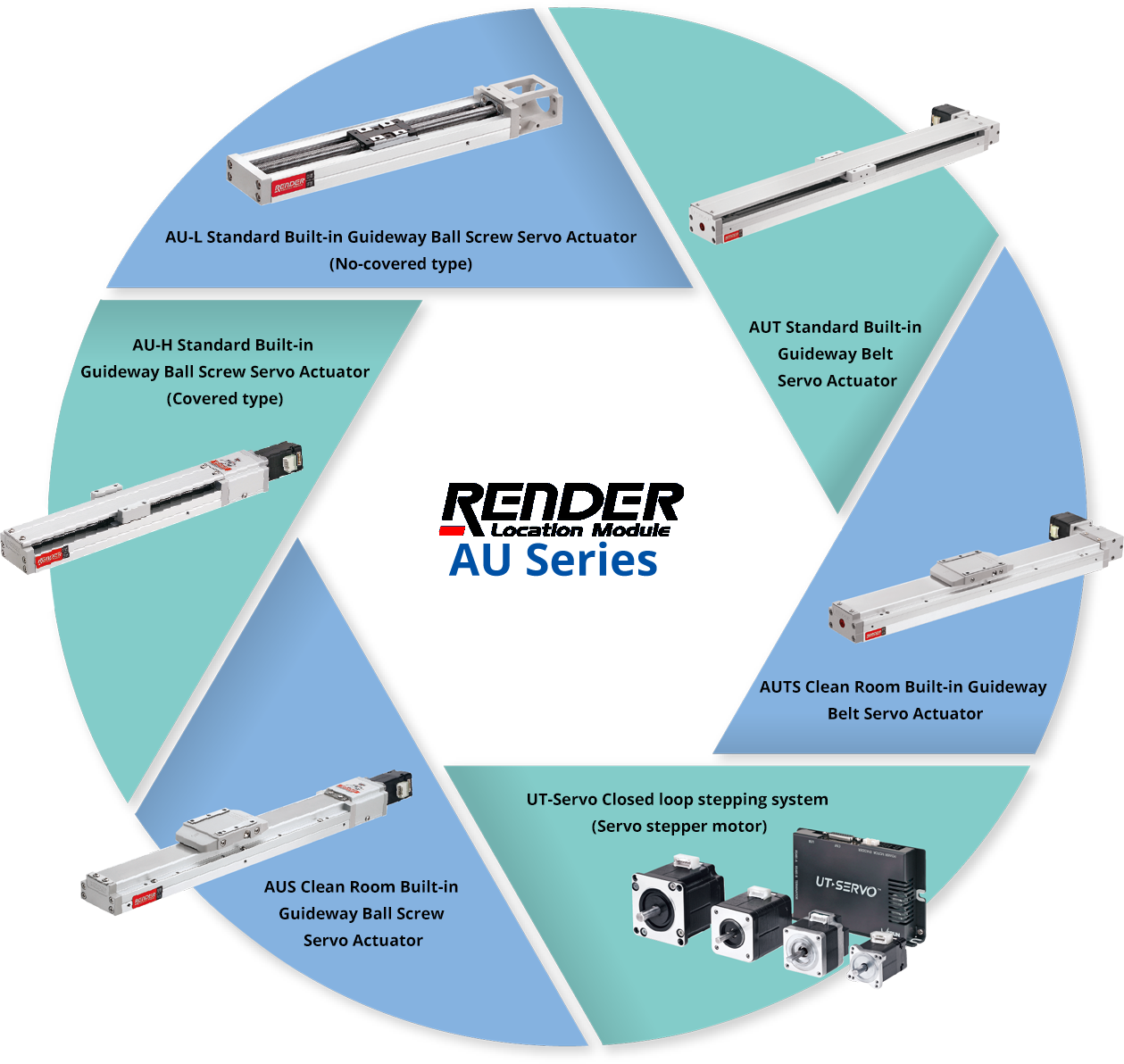 Gothic Arc Four-Point Contact Guide Rail
U-shaped bodies are mounted hardened guide rails on both sides, and the steel balls roll on the guide groove with a 45° Gothic arc four-point contact angle, so that the rated load of the slide block is evenly applied to the four equal directions. Then the cyclical motion of the steel balls in the slide block (nut) is converted into a linear motion transmission mechanical element, which has the characteristics of high positioning accuracy, high load-bearing life and high-speed forward and reverse transmission. Compared with general circular arc guide rail, the Gothic arc guide rail effectively reduces the friction and loss of the steel ball surface and reduces the noise.
Suitable for multiple installation ways, including horizontal, wall-mounted, vertical, and upside down.
Contact Stress VS. Load
Gothic Arc Guide Rail
Circular Arc Guide Rail